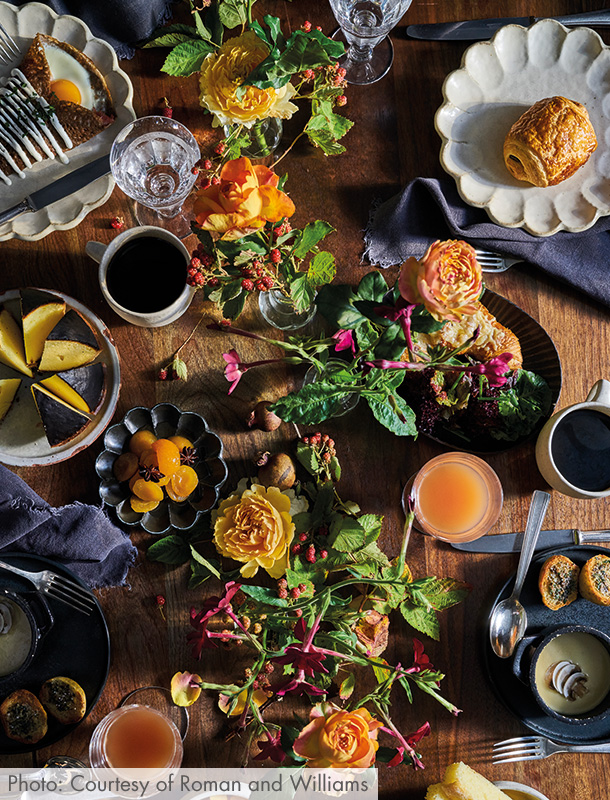 The Case for a
Breakfast in SoHo — Part 2
So you've enjoyed the first three breakfast places we tipped you off to, and now you're hungry for more. Well, we've got your back! If you're reading this for the first time, check out part one of "The Case for a Breakfast in SoHo" here.

Otherwise, set your alarm and enjoy the diversity of New York City dish by dish. We guarantee you'll be transported through time, boroughs seas and oceans — all without leaving the neighborhood.
Day 4
Parisian Chic at La Mercerie
If you're looking for a beautifully sun-drenched space with vibrant bouquets to enjoy your fourth breakfast in NYC, then let this dreamy café transport you to Paris. Located inside the Roman and Williams Guild store, La Mercerie's sweet offerings such as the Tourteau Fromager (an obscure French cheesecake that originated in western France served with poached apricot) and savory ones such as the Crêpe Complète (sunny-side-up egg snug inside a crêpe with ham and 18-month aged Comté cheese) keep the fashion elite coming in for more.

With it's crafted items collected from workshops around the world, library with global books and wild, feral flowers composed by Emily Thompson, you're transported into different worlds. Oh, and the best part? Everything from the knives to the furniture and flowers is for sale. So, you can take a piece of this experience back home with you — that's if you want to shell out some serious cash on an artisan chair.
The door and floral ornaments around the door frame are enough to make you want to spend an entire morning here.
The bowl of Crème Anglaise topped with fluffy Brioche is an absolutely dreamy, sweet and French way to start your day.
Forget about New York style cheesecake. The Tourteau Fromager is the only cheesecake you should be having. The burned top adds bitterness and acidity and is heavenly paired with poached apricots.
If you can't imagine breakfast without eggs then go for the Crêpe Complète. It's a great substitute for an American egg, ham and cheese sandwich.
Day 5
Serenity in a cuppa at Sanctuary T


A fast and not-so-sleepy city requires a serene place where you can have breakfast whenever. Sanctuary T offers just that. An all-day breakfast is paired well with tea from around the world. It's not your average grandma's cup of tea though. A sip of one tea-infused cocktail will wash away the ol' tea drinker stereotype. Try a Vegan New Yorker (rosemary-infused bourbon, lemon, lime, aquafaba, orange blossom, vegan red wine, demerara sugar and charred rosemary). How about a Radler Snake (hibiscus-infused tequila bianco, jalapeño, cilantro, lime, owl's brew wicked watermelon white tea radler and smoked black tea sea salt). Phew! That's one complex blend. But good isn't always simple.
The food here is … well it suffices to say the restaurant made Clean Plates' list of NYC's healthiest and tastiest. Pair those cool drinks with grub such as the Banana Walnut Pancake drizzled with Vermont maple syrup. You can't leave the East Coast without having Vermont's maple syrup.






Day 6
New York City classics at Sadelle's


Since leaving NYC without having the city's breakfast staple is practically a sin, we suggest having a bagel this morning. Though you can get a good bagel anywhere, at Sadelle's, you'll get a bagel with a side of NYC theatrics. Your bagels will emerge from the kitchen stacked on a pole held by a waiter shouting "Hot bagels!" Your salmon will be served atop a three-tier server with all the condiments and garnishes you'll need to assemble your sandwich. You can of course also try their deep-fried French toast made from Jewish bread challah. According to New York magazine's Grub Street, challah makes the "greatest" caramelized French toast.
Day 7
Sweetest goodbyes at DAB
Your trip (or breakfast crawl) has come to an end, and what better way to finish off your vacation than with a visit to Dominique Ansel Bakery — home of the Cronut® , a donut-croissant hybrid. This pastry is probably the most talked about during our time and was named one of the best inventions of 2013 by TIME magazine.
However, brace yourselves for a possible heartbreak. With the Cronut® , you might just discover your favorite flavor only to find out you'll never have it again. You see, the Cronut® flavors change every month and never repeat. But, it's going to be ok since you have two options to help you move on. You could either find your next favorite flavor next month, or you could drown your sorrows in a special kind of shot, the cookie shot. The cookie shot is a shot glass-shaped cookie lined in dark chocolate filled with vanilla milk. Now that's the sweetest goodbye you'll ever have.
Made with a laminated dough, the Cronut® takes three days to make. Once done, they're flavored in three ways: 1) rolled in sugar, 2) filled with cream, or 3) topped with glaze.
Toast the bakery's fifth year on this planet with the cookie shot. The shot is perfect for those who consider dunking cookies in milk a little retro.