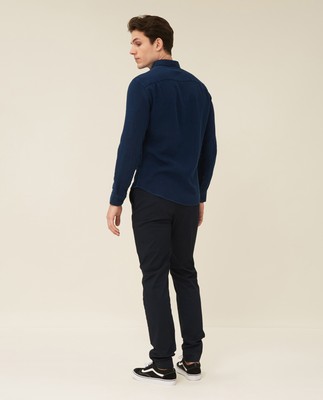 Clive Herringbone Shirt, Indigo
Choose size
Size chart
| | S | M | L | XL | XXL |
| --- | --- | --- | --- | --- | --- |
| EUR | 44 | 46-48 | 50-52 | 54-56 | 58 |
| UK | 34R | 36R-38R | 40R-42R | 44R-46R | 48R |
| USA | 34R | 36R-38R | 40R-42R | 44R-46R | 48R |
| Chest (cm) | 88 | 92-96 | 100-104 | 108-112 | 116 |
| Waist(cm) | 76 | 80-84 | 88-92 | 96-100 | 104 |
| Seat (cm) | 92 | 96-100 | 104-107 | 110-113 | 116 |
| Collar (cm) | 37/38 | 39/40 | 41/42 | 43/44 | 45/46 |
| Chest (inch) | 34½ | 36-37½ | 39-41 | 42½-44 | 45½ |
| Waist(inch) | 30 | 31½-33 | 34½-36 | 38-39½ | 41 |
| Seat (inch) | 36 | 38-39½ | 41-42 | 43½12-45 | 45½ |
| Collar (inch) | 15 | 15½-16 | 16½-17 | 17½-18 | 18½ |
Quantity
Details
100% Cotton
Button Down Collar
Single chest pocket with Lexington flag label.
Lexington logo buttons in horn imitation.
Curved Hem
Curved Cuffs
Side pleats at back
Herringbone Weave with Indigo Yarn
Soft interlining in collar, cuff and placket.
In a slim fit comes the Clive Herringbone Shirt that is made from pure cotton and, like its namesake, uses a herringbone weave with indigo yarn and features a button-down collar with faux logo-embossed horn buttons, a chest pocket with the flag label attached, and a curved hem and cuffs. There are side pleats at the back and soft interlining in the hem, cuffs and collar.
Slim fit
½ chest 54 cm in size M (3cm difference between sizes)
½ Waist 50cm in size M (3cm difference between sizes)
Front length 75cm Back length: 77,5cm(1 cm difference between sizes)
The model is 188 cm and wearing the size M.
Care
• Wash warm (40°)
• Do not bleach
• Do not tumble dry
• Iron on medium temperature
• Do not dry-clean
• Article no: 22032205