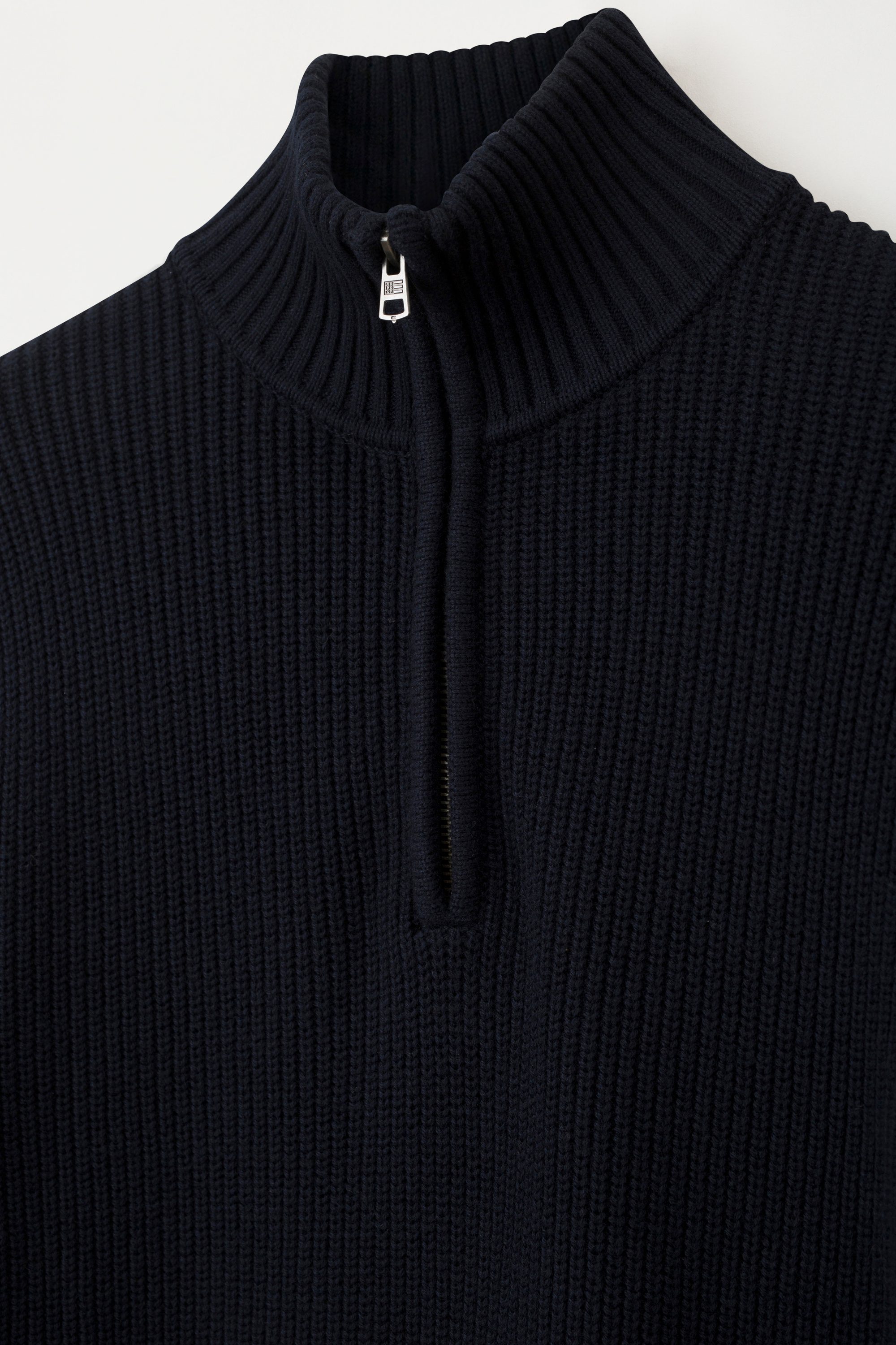 Vinnie Half Zip Sweater, Dark Blue
Choose size
Size chart
| | S | M | L | XL | XXL |
| --- | --- | --- | --- | --- | --- |
| EUR | 44 | 46-48 | 50-52 | 54-56 | 58 |
| UK | 34R | 36R-38R | 40R-42R | 44R-46R | 48R |
| USA | 34R | 36R-38R | 40R-42R | 44R-46R | 48R |
| Chest (cm) | 88 | 92-96 | 100-104 | 108-112 | 116 |
| Waist(cm) | 76 | 80-84 | 88-92 | 96-100 | 104 |
| Seat (cm) | 92 | 96-100 | 104-107 | 110-113 | 116 |
| Collar (cm) | 37/38 | 39/40 | 41/42 | 43/44 | 45/46 |
| Chest (inch) | 34½ | 36-37½ | 39-41 | 42½-44 | 45½ |
| Waist(inch) | 30 | 31½-33 | 34½-36 | 38-39½ | 41 |
| Seat (inch) | 36 | 38-39½ | 41-42 | 43½12-45 | 45½ |
| Collar (inch) | 15 | 15½-16 | 16½-17 | 17½-18 | 18½ |
Quantity
Details
60% Cotton 30% Nylon 10% Wool
Half zip with Lexington Logo Puller in metal
Half Cardigan Knit
Heavy Knit in 7 gauge, 3 Ends
2x2 Ribbed hem and cuff, 2x2 Double Rib at collar
Lexington Flag Label at sideseam
Elbow patches in full milano
Blending cotton, nylon and wool, this soft sweater is tailored for a classic fit. This sweater features a half cardigan knit, a logo-embossed half zipper, elbow patches in full milano and set-in sleeves. This sweater is detailed with ribbed detailing in the collar, hem and cuffs, the Lexington flag label on the side seam and herringbone neck tape.
Classic fit
½ Chest: 49cm in size M (3cm difference between sizes)
Back length 70 cm in size M (1cm difference between sizes)
The model is 183cm and wearing size M.
Care
• Extra mild fine wash (30)
• Do not use bleach
• Do not tumble dry
• Iron on low tempeture
• Dry clean with usual solvents (but not trichloroethylene).
• Article no: 21932408