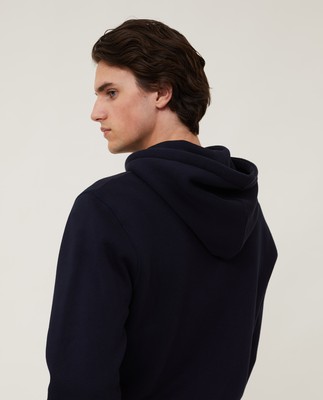 Perry Organic Cotton Hood, Dark Blue
Choose size
Size chart
| | S | M | L | XL | XXL |
| --- | --- | --- | --- | --- | --- |
| EUR | 44 | 46-48 | 50-52 | 54-56 | 58 |
| UK | 34R | 36R-38R | 40R-42R | 44R-46R | 48R |
| USA | 34R | 36R-38R | 40R-42R | 44R-46R | 48R |
| Chest (cm) | 88 | 92-96 | 100-104 | 108-112 | 116 |
| Waist(cm) | 76 | 80-84 | 88-92 | 96-100 | 104 |
| Seat (cm) | 92 | 96-100 | 104-107 | 110-113 | 116 |
| Collar (cm) | 37/38 | 39/40 | 41/42 | 43/44 | 45/46 |
| Chest (inch) | 34½ | 36-37½ | 39-41 | 42½-44 | 45½ |
| Waist(inch) | 30 | 31½-33 | 34½-36 | 38-39½ | 41 |
| Seat (inch) | 36 | 38-39½ | 41-42 | 43½12-45 | 45½ |
| Collar (inch) | 15 | 15½-16 | 16½-17 | 17½-18 | 18½ |
Quantity
Details
100% Organic Cotton
Drawstring Hoodie
Fleece at inside.
Rounded Drawstring with metal shoe lace end
1-way zipper in silver metal with Lexington Logo Puller
Ribbed cuff and hem
Lexington terry application and embroidery at chest
Herringbone tape inside neck.
Bio Polish Wash,Clean Finish
This drawstring hoodie is cut from organic cotton that has been treated with a bio polish wash and is tailored for a classic fit. Lined with fleece, this hoodie features the brand name and year of establishment in an embroidered terry appliqué, a rounded drawstring capped with logo-embossed aglets, and a ribbed hem and cuffs. This hoodie is finished with herringbone tape reinforcing the neckline and a one-way zip closure with a logo-embossed puller.
Classic fit
½ chest 53cm in size M (3cm difference between sizes)
Back length: 71cm in size M(1 cm difference between sizes)
The model is 186 cm and wearing the size M.
Care
• Warm Wash (40°)
• Do not use bleach
• Tumble dry on low temperature
• Iron on high temperature
• Do not dry clean
• Article no: 20002707