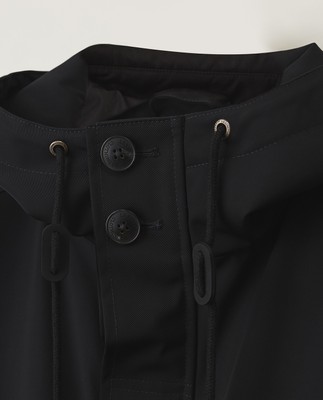 Choose size
Size chart
| | S | M | L | XL | XXL |
| --- | --- | --- | --- | --- | --- |
| EUR | 44 | 46-48 | 50-52 | 54-56 | 58 |
| UK | 34R | 36R-38R | 40R-42R | 44R-46R | 48R |
| USA | 34R | 36R-38R | 40R-42R | 44R-46R | 48R |
| Chest (cm) | 88 | 92-96 | 100-104 | 108-112 | 116 |
| Waist(cm) | 76 | 80-84 | 88-92 | 96-100 | 104 |
| Seat (cm) | 92 | 96-100 | 104-107 | 110-113 | 116 |
| Collar (cm) | 37/38 | 39/40 | 41/42 | 43/44 | 45/46 |
| Chest (inch) | 34½ | 36-37½ | 39-41 | 42½-44 | 45½ |
| Waist(inch) | 30 | 31½-33 | 34½-36 | 38-39½ | 41 |
| Seat (inch) | 36 | 38-39½ | 41-42 | 43½12-45 | 45½ |
| Collar (inch) | 15 | 15½-16 | 16½-17 | 17½-18 | 18½ |
Quantity
Details
Made from a polyester cotton blend, this parka is styled in a classic fit. This parka features PU coating for water resistance, two pockets and a drawstring. This parka is also detailed with a curved hem.
Classic fit
, Slim Leg
For size M:
½ Chest width 59,5cm
Front length 91cm
Back length 96,5cm
Roger is 183cm and wearing size M.
Care
Wash cold or dry clean. Do not tumble dry, use iron or bleach. Article no. 20002102