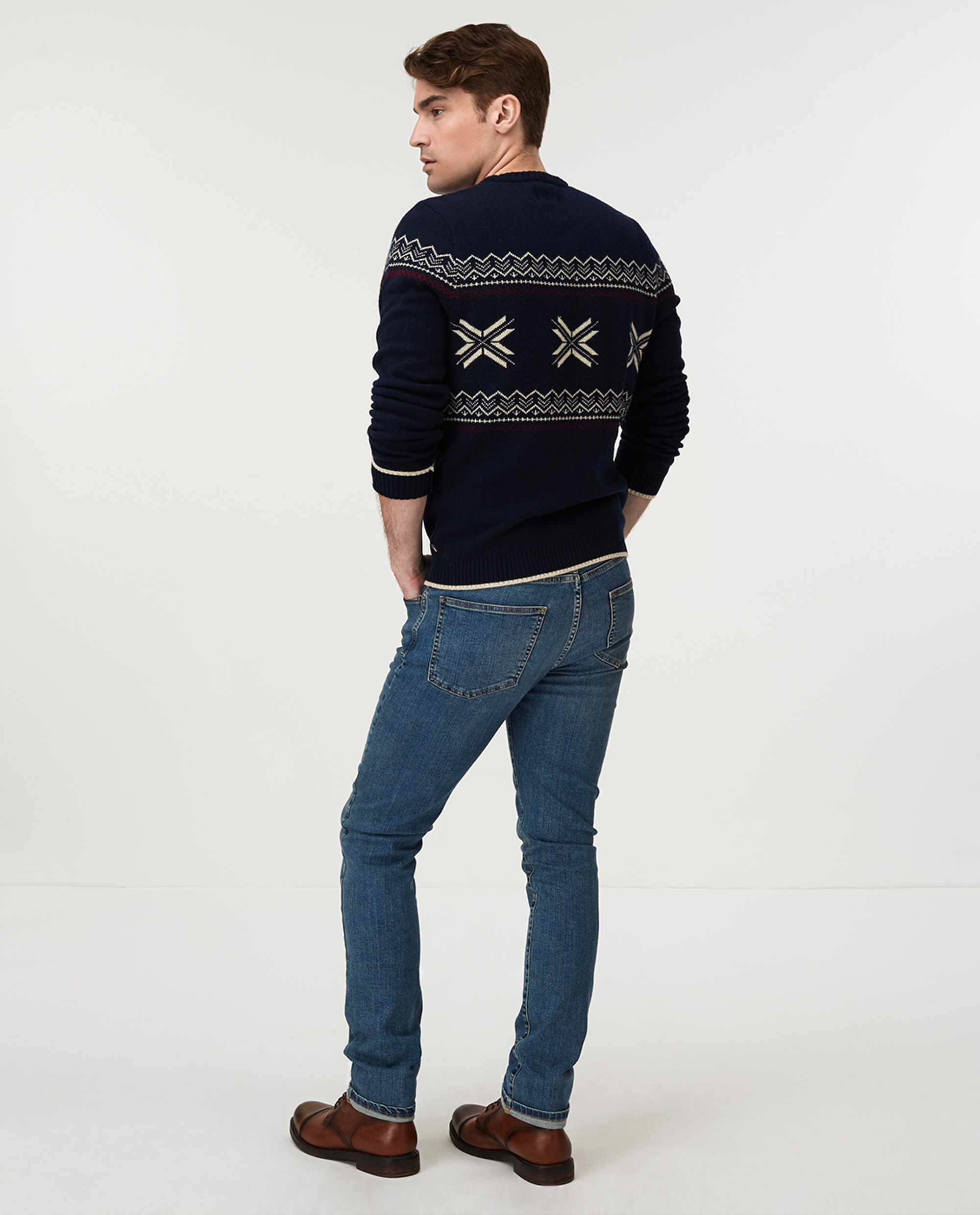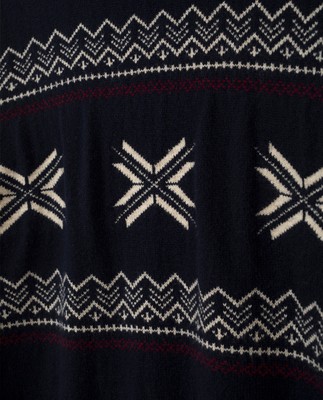 Jim Holiday Sweater, Dark Blue
Choose size
Size chart
| | S | M | L | XL | XXL |
| --- | --- | --- | --- | --- | --- |
| EUR | 44 | 46-48 | 50-52 | 54-56 | 58 |
| UK | 34R | 36R-38R | 40R-42R | 44R-46R | 48R |
| USA | 34R | 36R-38R | 40R-42R | 44R-46R | 48R |
| Chest (cm) | 88 | 92-96 | 100-104 | 108-112 | 116 |
| Waist(cm) | 76 | 80-84 | 88-92 | 96-100 | 104 |
| Seat (cm) | 92 | 96-100 | 104-107 | 110-113 | 116 |
| Collar (cm) | 37/38 | 39/40 | 41/42 | 43/44 | 45/46 |
| Chest (inch) | 34½ | 36-37½ | 39-41 | 42½-44 | 45½ |
| Waist(inch) | 30 | 31½-33 | 34½-36 | 38-39½ | 41 |
| Seat (inch) | 36 | 38-39½ | 41-42 | 43½12-45 | 45½ |
| Collar (inch) | 15 | 15½-16 | 16½-17 | 17½-18 | 18½ |
Quantity
Details
25% Merino Wool 20% Cotton 45% Nylon
Crewneck
Jaquard Knit
3-color Pattern
Heavy Knit in 7 gauge, 3 Ends
2x2 Ribbed hem and cuff, 2x2 Double Rib at collar
Lexington Flag Label at sideseam
Blending merino wool, cotton and nylon, this soft sweater is tailored for a classic fit. This crewneck sweater features a three color pattern styled in a jacquard knit, and set-in sleeves. This sweater is detailed with ribbed detailing in the collar, hem and cuffs and the Lexington flag label on the side seam.
Classic fit
½ Chest: 52cm in size M (3cm difference between sizes)
Back length 70,5 cm in size M (1cm difference between sizes)
The model is 186cm and wearing size M.
Care
• Hand wash
• Do not use bleach
• Dry flat
• Iron on low tempeture
• Dry clean with usual solvents (but not trichloroethylene).
• Article no: 21932409