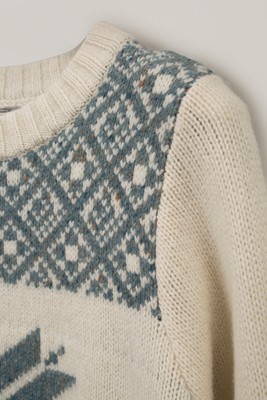 Choose size
Size chart
| | XS | S | M | L | XL |
| --- | --- | --- | --- | --- | --- |
| EUR | 32 | 34-36 | 38-40 | 42-44 | 46 |
| UK | 4 | 6-8 | 10-12 | 14-16 | 18 |
| USA | 0 | 2-4 | 6-8 | 10-12 | 14 |
| Chest (cm) | 76 | 80-84 | 88-92 | 96-100 | 104 |
| Waist (cm) | 60 | 64-68 | 72-76 | 82-84 | 88 |
| Seat(cm) | 87 | 90-93 | 96-99 | 102-106 | 110 |
| Chest (inch) | 30 | 31½-33 | 35½-36 | 37½-39½ | 41 |
| Waist (inch) | 23½ | 25-26½ | 28-30 | 31½-33 | 34½ |
| Seat(inch) | 34 | 35½-36½ | 37½-39 | 40-41½ | 43 |
Details
57%Lambswool 23% Nylon 19% Merinowool 1% Alpacka
Mix of yarns due to contrast colors
Round neck folded collar
Back slightly longer then front
Floating Jaquard knit and intarsia at center front
The blue yarn is with neps and in melange and off white is plain
Heavy knit in 3 gauge
Blending merino wool, alpaca and lambswool, this jacquard knit sweater is tailored for a casual fit. This knit sweater features a floating jacquard and intarsia knit design on the front and 2x2 ribbed detailing on the hem and collar. This sweater is finished with a folded round neck and added length on the back.
Casual fit
3
½ Chest: 56cm in size M (3cm difference between sizes)
Front/back length: 69/73 cm in size M (1cm difference between sizes)
The model is 172cm and wearing the size M.
Care
• Hand wash
• Do not use bleach
• Dry flat
• Iron on low tempeture
• Dry clean with usual solvents (but not trichloroethylene).
• Article no: 21931411