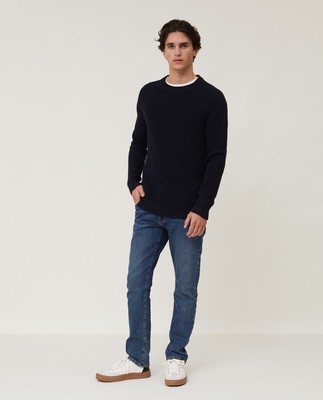 Otis Fisherman Sweater, Dark Blue
Choose size
Size chart
| | S | M | L | XL | XXL |
| --- | --- | --- | --- | --- | --- |
| EUR | 44 | 46-48 | 50-52 | 54-56 | 58 |
| UK | 34R | 36R-38R | 40R-42R | 44R-46R | 48R |
| USA | 34R | 36R-38R | 40R-42R | 44R-46R | 48R |
| Chest (cm) | 88 | 92-96 | 100-104 | 108-112 | 116 |
| Waist(cm) | 76 | 80-84 | 88-92 | 96-100 | 104 |
| Seat (cm) | 92 | 96-100 | 104-107 | 110-113 | 116 |
| Collar (cm) | 37/38 | 39/40 | 41/42 | 43/44 | 45/46 |
| Chest (inch) | 34½ | 36-37½ | 39-41 | 42½-44 | 45½ |
| Waist(inch) | 30 | 31½-33 | 34½-36 | 38-39½ | 41 |
| Seat (inch) | 36 | 38-39½ | 41-42 | 43½12-45 | 45½ |
| Collar (inch) | 15 | 15½-16 | 16½-17 | 17½-18 | 18½ |
Quantity
Details
• 100% Cotton
• Half Cardigan Knit
• Heavy Knit, 5GG
• Transfer Stitches Raglan Seam
• Lexington Flag Label in sideseam
• Ribbed collar, hem and cuff
• Herringbone Necktape

Lexington's Otis Fisherman Sweater is made from pure cotton with a half-cardigan weave and is designed for a classic fit. This cotton sweater features transfer stitch detailing on the raglan sleeves, ribbed detailing on the collar, hem and cuffs. This sweater is finished with the brand's flag label at the side seam and herringbone neck tape.
Care
• Mild fine wash (30°)
• Do not bleach
• Do not tumble dry
• Dry flat
• Iron on low temperature
• Do not dry clean
• Article no: 22112407