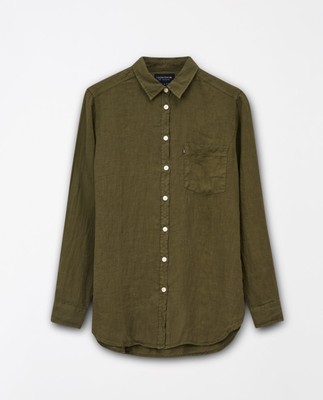 Choose size
Size chart
| | S | M | L | XL | XXL |
| --- | --- | --- | --- | --- | --- |
| EUR | 44 | 46-48 | 50-52 | 54-56 | 58 |
| UK | 34R | 36R-38R | 40R-42R | 44R-46R | 48R |
| USA | 34R | 36R-38R | 40R-42R | 44R-46R | 48R |
| Chest (cm) | 88 | 92-96 | 100-104 | 108-112 | 116 |
| Waist(cm) | 76 | 80-84 | 88-92 | 96-100 | 104 |
| Seat (cm) | 92 | 96-100 | 104-107 | 110-113 | 116 |
| Collar (cm) | 37/38 | 39/40 | 41/42 | 43/44 | 45/46 |
| Chest (inch) | 34½ | 36-37½ | 39-41 | 42½-44 | 45½ |
| Waist(inch) | 30 | 31½-33 | 34½-36 | 38-39½ | 41 |
| Seat (inch) | 36 | 38-39½ | 41-42 | 43½12-45 | 45½ |
| Collar (inch) | 15 | 15½-16 | 16½-17 | 17½-18 | 18½ |
Details
100% Linen
Pointed Collar
Single chest pocket with Lexington flag label.
Lexington logo buttons in mother of pearl imitation
Curved Hem and cuffs
Boxpleat and hangerloop at back
Plain Weave
Garment Dyed
Soft interlining in collar, cuff and placket.
Woven from pure linen, this shirt is tailored for a classic fit. This garment dyed shirt features a plain weave using melange yarn, a pointed collar and logo-embossed faux mother of pearl buttons. Additional details for this shirt include a chest pocket with the Lexington flag label, a curved hem and cuffs, a box pleat at the back and soft interlining in the collar, cuffs and placket.
Classic fit
½ chest: 55,5cm in size M (3cm difference between sizes)
Front/Back length: 75 cm/77,5cm (1 cm difference between sizes)
Roger is 183cm and wearing size M in Pink, Light Blue & Dark Blue.
Maks is 187cm and wearing size M in White, Light Beige & Green.
Care
• Mild wash(40°)
• Do not bleach
• Tumble dry on low temperature
• Iron on medium temperature
• Dry clean with usual solvents (but not trichloroethylene). Can be machine dry-cleaned: Mild.
• 100% Linen
• Article no: 22012204