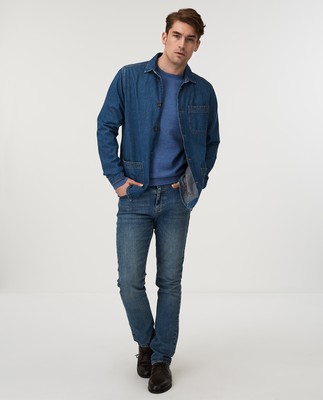 Robert Denim Worker Shirt, Medium Blue
Choose size
Size chart
| | S | M | L | XL | XXL |
| --- | --- | --- | --- | --- | --- |
| EUR | 44 | 46-48 | 50-52 | 54-56 | 58 |
| UK | 34R | 36R-38R | 40R-42R | 44R-46R | 48R |
| USA | 34R | 36R-38R | 40R-42R | 44R-46R | 48R |
| Chest (cm) | 88 | 92-96 | 100-104 | 108-112 | 116 |
| Waist(cm) | 76 | 80-84 | 88-92 | 96-100 | 104 |
| Seat (cm) | 92 | 96-100 | 104-107 | 110-113 | 116 |
| Collar (cm) | 37/38 | 39/40 | 41/42 | 43/44 | 45/46 |
| Chest (inch) | 34½ | 36-37½ | 39-41 | 42½-44 | 45½ |
| Waist(inch) | 30 | 31½-33 | 34½-36 | 38-39½ | 41 |
| Seat (inch) | 36 | 38-39½ | 41-42 | 43½12-45 | 45½ |
| Collar (inch) | 15 | 15½-16 | 16½-17 | 17½-18 | 18½ |
Details
100% Cotton
Denim Weave
Pointed Collar
Two lower patchpockets and one patch pocket at chest.
Contrast stitching in Tobacco
Dark Gray horn imitation buttons with lexington logo.
Lexington flag label at sideseam.
No pleats at back.
Hangerloop in self fabric at back.
Made from a denim cotton weave, this shirt is styled in a casual fit. With its contrast stitching in tobacco gold, this shirt features a pointed collar, one chest and two lower patch pockets, the Lexington flag label in the side seam and brand logo buttons in imitation horn. This shirt is also detailed with soft interlining in the straight hem and cuffs.
Casual fit
½ Chest: 56cm in size M (3cm difference between sizes)
Back length 76 cm in size M (1cm difference between sizes)
Johan is 186cm and wearing size M.
Care
• Do not wash
• Do not use bleach
• Do not tumble dry
• Do not iron
• Dry clean with usual solvents (but not trichloroethylene).
• Article no: 21932208