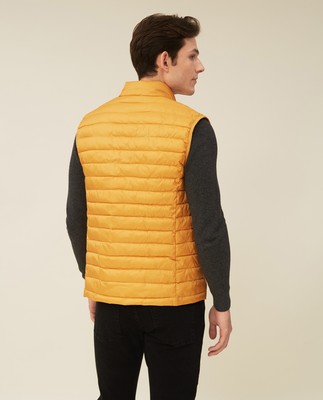 Velg størrelse
Størrelsesoversikt
| | S | M | L | XL | XXL |
| --- | --- | --- | --- | --- | --- |
| EUR | 44 | 46-48 | 50-52 | 54-56 | 58 |
| UK | 34R | 36R-38R | 40R-42R | 44R-46R | 48R |
| USA | 34R | 36R-38R | 40R-42R | 44R-46R | 48R |
| Chest (cm) | 88 | 92-96 | 100-104 | 108-112 | 116 |
| Waist(cm) | 76 | 80-84 | 88-92 | 96-100 | 104 |
| Seat (cm) | 92 | 96-100 | 104-107 | 110-113 | 116 |
| Collar (cm) | 37/38 | 39/40 | 41/42 | 43/44 | 45/46 |
| Chest (inch) | 34½ | 36-37½ | 39-41 | 42½-44 | 45½ |
| Waist(inch) | 30 | 31½-33 | 34½-36 | 38-39½ | 41 |
| Seat (inch) | 36 | 38-39½ | 41-42 | 43½12-45 | 45½ |
| Collar (inch) | 15 | 15½-16 | 16½-17 | 17½-18 | 18½ |
Antall
Detaljer
Yttermateriale: 100 % nylon
Fôr: 100 % nylon
Ståkrage
Quiltet materiale i paneler
Vattering 140 g resirkulert polyester
To lavtsittende stikklommer med glidelås
To innerlommer med glidelås og nettingfôr
Vislon-glidelås foran og glidelåsdrager med Lexington-logo
Lexington-logo i gummi på brystet
Ermehull kantet med elastiske bånd
Lexingtons Elmo Vest er laget av ren nylon vattert med resirkulert polyester, og den har en smal passform. Denne gule, quiltede vesten har ståkrage, VISLON®-glidelås med preget logo på drageren, to lavtsittende stikklommer og to innvendige lommer med glidelås og nettingfôr. Den har en Lexington-logo i gummi på venstre forstykke, og ermehullene er kantet med elastiske bånd.
Slim fit
½ brystvidde 53 cm i størrelse M (3 cm forskjell mellom størrelsene)
Lengde bak: 71 cm (1 cm forskjell mellom størrelsene)
Modellen er 188 cm høy og bruker str. M.
Behandling
• Skånsom vask (30°)
• Tåler ikke klorbleking
• Tåler ikke tørketrommel
• Må ikke strykes
• Tåler ikke rens
• Lufttørkes på kleshenger
• Artikkelnr.: 22032100