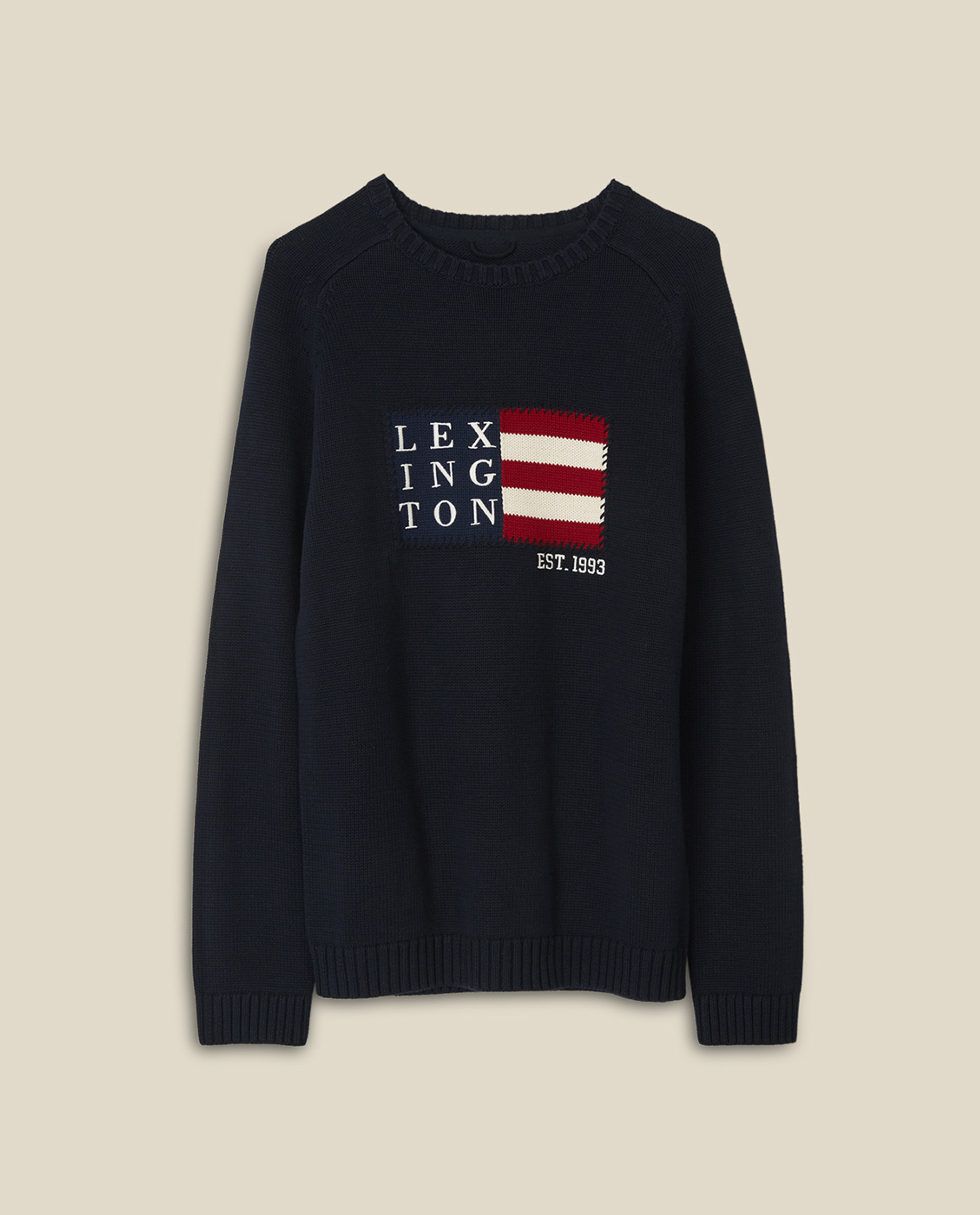 Choose size
Size chart
| | S | M | L | XL | XXL |
| --- | --- | --- | --- | --- | --- |
| EUR | 44 | 46-48 | 50-52 | 54-56 | 58 |
| UK | 34R | 36R-38R | 40R-42R | 44R-46R | 48R |
| USA | 34R | 36R-38R | 40R-42R | 44R-46R | 48R |
| Chest (cm) | 88 | 92-96 | 100-104 | 108-112 | 116 |
| Waist(cm) | 76 | 80-84 | 88-92 | 96-100 | 104 |
| Seat (cm) | 92 | 96-100 | 104-107 | 110-113 | 116 |
| Collar (cm) | 37/38 | 39/40 | 41/42 | 43/44 | 45/46 |
| Chest (inch) | 34½ | 36-37½ | 39-41 | 42½-44 | 45½ |
| Waist(inch) | 30 | 31½-33 | 34½-36 | 38-39½ | 41 |
| Seat (inch) | 36 | 38-39½ | 41-42 | 43½12-45 | 45½ |
| Collar (inch) | 15 | 15½-16 | 16½-17 | 17½-18 | 18½ |
Quantity
Details
100% Combed Cotton
Crewneck
Plain Knit Structure
Heavy Knit, in 5 gauge
Raglan sleeves
Ribbed collar, hem and cuff
Lexington Flag made by Intarsia and Embroidery
Heavy Embroidery Stitching around flag
Herringbone Necktape
Spun from super combed cotton, this sweater is woven with a heavy knit for added depth and warmth. This sweater features an intarsia-embroidered knit of the brand logo, raglan sleeves, a ribbed collar, hem and cuff. Additional details for this sweater includes herringbone neck tape and fully fashioned detailing in the armholes.
Classic fit
½ Chest: 49cm in size M (3cm difference between sizes)
Back length 70 cm in size M (1cm difference between sizes)
Roger is 183cm and wearing size M.
Care
• Wash mild warm (40°)
• Do not bleach
• Do not tumble dry
• Iron on low temperature
• Dry flat
• Article no: 20002401