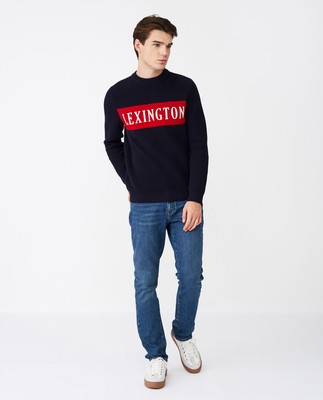 Choose size
Size chart
| | S | M | L | XL | XXL |
| --- | --- | --- | --- | --- | --- |
| EUR | 44 | 46-48 | 50-52 | 54-56 | 58 |
| UK | 34R | 36R-38R | 40R-42R | 44R-46R | 48R |
| USA | 34R | 36R-38R | 40R-42R | 44R-46R | 48R |
| Chest (cm) | 88 | 92-96 | 100-104 | 108-112 | 116 |
| Waist(cm) | 76 | 80-84 | 88-92 | 96-100 | 104 |
| Seat (cm) | 92 | 96-100 | 104-107 | 110-113 | 116 |
| Collar (cm) | 37/38 | 39/40 | 41/42 | 43/44 | 45/46 |
| Chest (inch) | 34½ | 36-37½ | 39-41 | 42½-44 | 45½ |
| Waist(inch) | 30 | 31½-33 | 34½-36 | 38-39½ | 41 |
| Seat (inch) | 36 | 38-39½ | 41-42 | 43½12-45 | 45½ |
| Collar (inch) | 15 | 15½-16 | 16½-17 | 17½-18 | 18½ |
Details
100% Super Combed Cotton
Crewneck
Half Cardigan knit
Heavy Knit, 7GG
Panel in Full Milano with Lexington Embroidery
Set in sleeves
Ribbed collar, hem and cuff
Herringbone Necktape
Spun from super combed cotton, this sweater is woven with a half cardigan knit and is tailored for a classic fit. This crewneck sweater features the brand logo in an embroidered Milano knit, and ribbing in the collar, hem and cuffs. Additional details for this sweater include herringbone neck tape and set-in sleeves.
Classic fit
½ chest: 50,5cm in size M (3cm difference between sizes)
Back length: 70cm (1 cm difference between sizes)
The model is 187cm and wearing size M.
Care
• Wash mild warm (40°)
• Do not bleach
• Do not tumble dry
• Iron on low temperature
• Dry flat
• Article no: 22012408