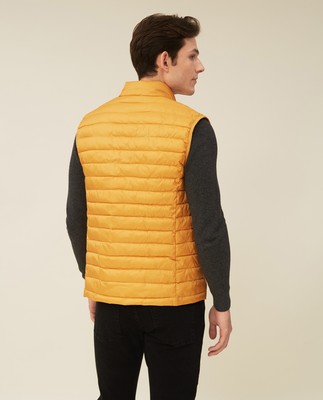 Choose size
Size chart
| | S | M | L | XL | XXL |
| --- | --- | --- | --- | --- | --- |
| EUR | 44 | 46-48 | 50-52 | 54-56 | 58 |
| UK | 34R | 36R-38R | 40R-42R | 44R-46R | 48R |
| USA | 34R | 36R-38R | 40R-42R | 44R-46R | 48R |
| Chest (cm) | 88 | 92-96 | 100-104 | 108-112 | 116 |
| Waist(cm) | 76 | 80-84 | 88-92 | 96-100 | 104 |
| Seat (cm) | 92 | 96-100 | 104-107 | 110-113 | 116 |
| Collar (cm) | 37/38 | 39/40 | 41/42 | 43/44 | 45/46 |
| Chest (inch) | 34½ | 36-37½ | 39-41 | 42½-44 | 45½ |
| Waist(inch) | 30 | 31½-33 | 34½-36 | 38-39½ | 41 |
| Seat (inch) | 36 | 38-39½ | 41-42 | 43½12-45 | 45½ |
| Collar (inch) | 15 | 15½-16 | 16½-17 | 17½-18 | 18½ |
Quantity
Details
Udvendigt: 100% nylon
Foring: 100% nylon
Stand up-krave
Quiltet panelleret stof
140 g genanvendt polyesterpolstring
To paspolerede lommer forneden med lynlås
To indvendige lommer med lynlås og meshfor.
Vislon-lynlås med vedhæng med Lexington-logo.
Lexington-logo i gummi på brystet
Elastikbånd ved ærmegab
Lexingtons Elmo Vest er fremstillet i ren nylon med genanvendt polyesterfyld i quiltpanelerne og med en slank pasform. Denne gule quiltede vest har stand up-krave, VISLON®-lynlåslukning med lynlys med præget brandlogo, to paspolerede lommer forneden og to indvendige lommer med lynlås og meshfor. Lexingtons gummilabel foran, og ærmegab har indsyet elastikbånd.
Slim fit
½ bryst 53 cm i størrelse M (3 cm forskel mellem størrelser)
Længde bagtil: 71 cm(1 cm forskel mellem størrelser)
Modellen er 188 cm og er iført en størrelse M.
Care
• Finvask (30°)
• Undlad at bruge blegemiddel
• Må ikke tørretumbles
• Må ikke stryges
• Tåler ikke rensning
• Lufttørres på bøjle
• Artikelnr.: 22032100