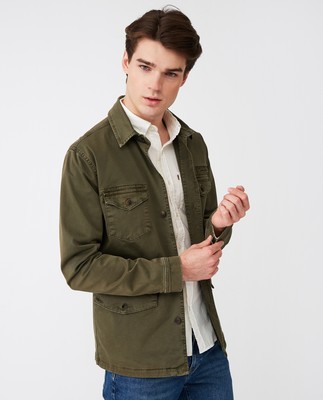 Choose size
Size chart
| | S | M | L | XL | XXL |
| --- | --- | --- | --- | --- | --- |
| EUR | 44 | 46-48 | 50-52 | 54-56 | 58 |
| UK | 34R | 36R-38R | 40R-42R | 44R-46R | 48R |
| USA | 34R | 36R-38R | 40R-42R | 44R-46R | 48R |
| Chest (cm) | 88 | 92-96 | 100-104 | 108-112 | 116 |
| Waist(cm) | 76 | 80-84 | 88-92 | 96-100 | 104 |
| Seat (cm) | 92 | 96-100 | 104-107 | 110-113 | 116 |
| Collar (cm) | 37/38 | 39/40 | 41/42 | 43/44 | 45/46 |
| Chest (inch) | 34½ | 36-37½ | 39-41 | 42½-44 | 45½ |
| Waist(inch) | 30 | 31½-33 | 34½-36 | 38-39½ | 41 |
| Seat (inch) | 36 | 38-39½ | 41-42 | 43½12-45 | 45½ |
| Collar (inch) | 15 | 15½-16 | 16½-17 | 17½-18 | 18½ |
Details
98% bomuld 2% elastan
Uden for
To brystlommer med flap
To påsyede lommer forneden med klap
En inderlomme
Lexington-logoknapper i imiteret horn.
Twill med stretch
Antikfarvet (resultat: vintagelook med skygger)
Lexington-mærkat og broderi på venstre brystlomme
Jakke i bomuld med classic fit pasform. Jakke i antikfarve i twill med stretch, almindelig krave og to brystlommer og to lommer forneden med klap. Safarijakke med logoprægede knapper i imiteret horn, inderlomme og broderet Lexington-mærkat.
Classic fit
1/2 bryst: 55cm i størrelse M (3cm forskel mellem størrelser)
Længde bagtil: 74,5cm (1 cm forskel mellem størrelser)
Modellen er 187 cm og er iført en størrelse M.
Care
• Finvask (30°)
• Undlad at bruge blegemiddel
• Må ikke tørretumbles
• Stryges ved lav temperatur
• Må ikke renses
• Lufttørres på bøjle
• Artikelnr.: 22012104